3 Simple Steps for Diabetes First Aid
July 20, 2017

Posted by:

Ben Cleaver

Category:

First aid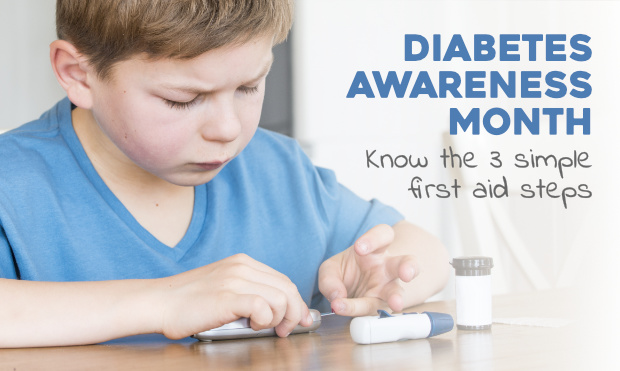 Reading Time:
< 1
minute
[et_pb_section bb_built="1″ admin_label="section"][et_pb_row admin_label="row" background_position="top_left" background_repeat="repeat" background_size="initial"][et_pb_column type="4_4″][et_pb_text admin_label="Text" _builder_version="3.0.51″ background_layout="light" text_orientation="left" border_style="solid"]
You may not know it, but the world is currently experiencing a diabetes epidemic. In Australia alone, 280 new cases are diagnosed every day and it is estimated that…
500,000 Aussie's are undiagnosed and don't know they have diabetes.
Diabetes is a condition where the pancreas is unable to produce enough insulin to break down sugars for the body to use as energy. Every cell in our bodies needs energy so this is a very important process.
There are two types of diabetes, referred to as Type 1 and Type 2. A diabetic person will usually use a device to monitor their insulin levels constantly, and may need to inject themselves with insulin regularly or as needed.
For diabetes first aid, it makes little difference which type of diabetes the casualty has, as the signs, symptoms and treatment in any diabetic emergency is the same.
Signs & symptoms of a diabetic emergency:
Extreme thirst
Sweating
Headaches
Frequent urination
Confusion
Slurred Speech
Sweet metallic smell on their breath
Aggressive or altered behaviour
Appearance of being drunk
Unconsciousness
Diabetes first aid treatment:
Rest the person and give them something sugary like lollies, soft drink, sugar granules or glucose gel.
Once their condition improves, give some food for sustained energy like a sandwich, fruit, or a glass of milk.
If they don't recover quickly, call 000 and stay with them until help arrives.
[activecampaign form=5] [/et_pb_text][/et_pb_column][/et_pb_row][et_pb_row admin_label="Row" background_position="top_left" background_repeat="repeat" background_size="initial" _builder_version="3.0.51″ background_position_1="top_left" background_repeat_1="no-repeat"][et_pb_column type="4_4″][et_pb_cta admin_label="Call To Action" _builder_version="3.0.51″ title="Still doing boring, long, confusing first aid courses?" button_text="Browse our courses" button_url="http://www.fluidfirstaid.com.au/first-aid/" url_new_window="off" use_background_color="on" background_layout="dark" border_style="solid" custom_button="off" button_letter_spacing="0″ button_icon_placement="right" button_letter_spacing_hover="0″ background_color="#711770″ saved_tabs="all"]
Learn first aid the fluid way and save time, have fun & leave confident & certified!
[/et_pb_cta][/et_pb_column][/et_pb_row][/et_pb_section]
Author:Ben
From New York City to Vietnam and back home, Ben has worked as a teacher, first aid instructor, humanitarian volunteer, pastoral worker and singer-songwriter. He loves producing engaging and outside-the-box adult learning content, of which some of his working has been nationally awarded. Ben loves guitars, running and tennis, but his hands-down favourite things are his princess daughters Noa and Minnie, twin sons Jude and Jasper and beautiful wife, Jess.