Face to face
2 day face to face course
or
Blended Learning
4 hours face to face with 6-8 hours online

Training Done Differently
Save Time, Have Fun and Leave Confident
ENROLLING IN THE COURSE
To enrol in the course online, please book your practical workshop HERE
To enrol over the phone, please call: 1300 976 276

Business Hours: 8:30am-5:00pm Mon-Fri, 9am-2pm Sat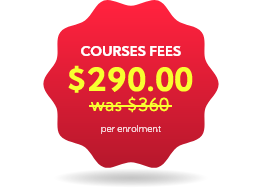 * All fees must be paid prior
to course commencement.

We will make refunds to Learners in certain circumstances as listed in the table. To apply for a refund you should email a request to:

[email protected]

When do I need to update this course.
Every three years MHFAA will send you a reminder email to refresh your Mental Health First Aid qualifications. Refresher courses are delivered in a 4-hour face-to-face session and participants will receive a manual to take home. There is an online assessment after the face-to-face session which when completed will extend accreditation by a further 3 years.
On completion is there any (CPD) Continuing Professional Development Points.
Standard MHFA Course has been endorsed by some professional bodies as continuing professional development (CPD) for:
Nurses, midwives, mental health nurses, and practice nurses

Chiropractors

Physiotherapists
Not endorsed but can claim CPD:
Psychologists, social workers, teachers, dieticians, speech pathologists, Audiologists and audiometrists, orthotists and prosthetists, and lawyers In some states and territories.

Save time
Our innovative online learning cuts class time in half!
Have fun
Award-winning videos / Relaxed
& waffle-free classes
Leave confident
More equipment /
More hands-on / Experienced,
but approachable trainers
What Our Customers Are Saying
Cosette Heazlewood
09/05/2022
Very informative course with explanations behind different first aid and CPR practices. Personal anecdotes helped to explain the importance of an understanding of how to administer CPR and first aid. My trainer was approachable and friendly. Highly recommend.
Jules Phillips
03/05/2022
Excellent training facility. Thank you Corrinne for excellent delivery of the courses!!
Had an amazing tutor her teaching style was so good, really good interaction between tutor and pupils definitely recommended. 10/10..
Have been getting my CPR refreshed every year at Fluid as well as First Aid courses since I was in highschool. The online learning modules are so user friendly and easy to get through, practical sessions are super informative and you just get in and get it done without spending long hours/days in boring course work. I'm a customer for life!!
Great CPR training. The trainer was very knowledgeable and taught relevant information. This is the second year we have been to Fluid First Aid North Lakes and will be booking again next year for our refresher training. Highly recommend
Great place to learn was not boring great and interesting.
Was one of the best first aid courses I've done, can't remember her name but she was very lovely, had great knowledge of all current procedures and did a great job getting her point across