First Aid Courses at North Lakes, Brisbane
We can all admit to having attended training courses that are long, boring, where much of the info delivered seems irrelevant. Some of us might think that this is the norm. But why should it be? Here at Fluid First Aid, we believe that learning can be one of the most enriching activities that you can do.
We see training courses as opportunities to grow and become empowered with knowledge, and we have built our company on this foundation. We aim to make first aid training fun and accessible for everyone and provide nationally recognised first aid courses in North Lakes.
First Aid Course North Lakes, Brisbane
(select course for more info)
Why do First Aid Training?
Although many people will have learned some first aid through their education, it is important to refresh this as an adult. Knowledge of first aid procedures and the correct methods of administering first aid assistance are vital for you as an individual, as well as for your community. First Aid can be applied anywhere, in some circumstances, it may be the difference between life and death until further help arrives.
For all Australian businesses, provision of trained first aiders as well as first aid equipment and facilities are a legal requirement. The First Aid Core of Practice states, there should be one first aider for every 50 workers in a low-risk environment, such as an office, and one first aider for every 25 workers in a high-risk environment, such as a construction site.
Whether the workplace is high or low risk, we believe it shares two traits: valuable employees who may suffer from illness or injury, and the need to protect them with suitable first aid procedures.
Getting to your course
North Lakes is located 30 km North from Brisbane's CBD on the Bruce Highway in the heart of Brisbane's northern growth corridor.
Whether you are driving North from Brisbane or South from Caboolture or the Sunshine Coast, take exit 133 to Anzac Avenue off the Bruce Highway.
Heading east on Anzac Ave toward Redcliffe, turn left at McDonalds into Discovery Drive, then at the first round-about, turn left into Memorial Drive and left again into Sibley Street. We are in the large Ko-Work building on the left.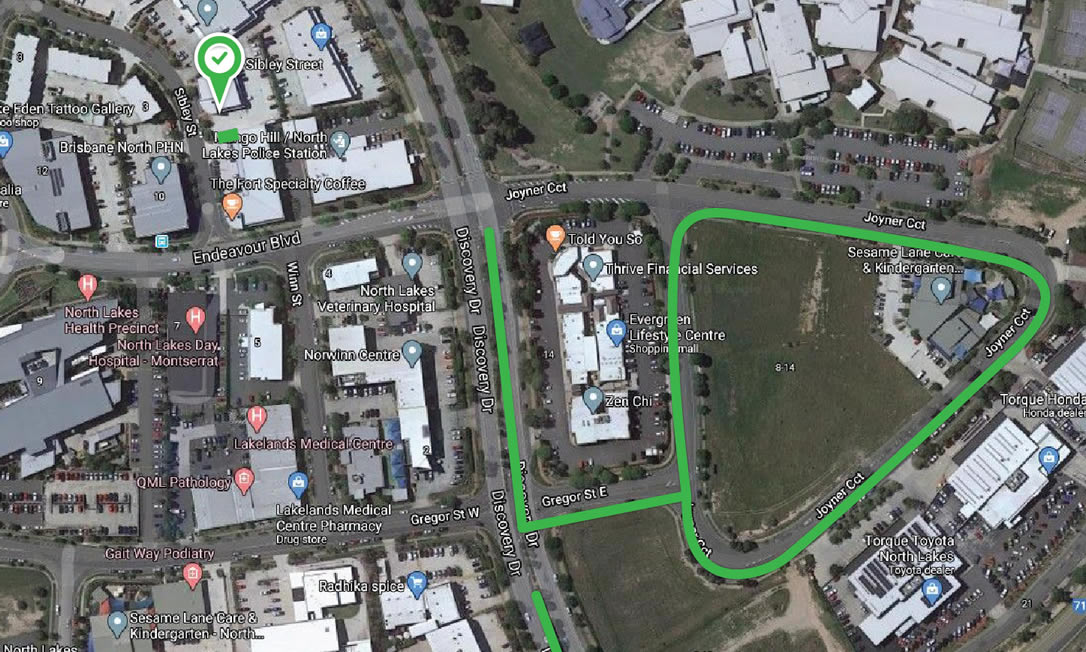 Parking
On site parking is available as is street parking in Sibley Street. See the parking map image for driveway entries and recommended parking áreas
Public Transport
Fluid First Aid training room is just a short 1.3km walk along Halpine Dr. crossing Anzac Avenue into Discovery Drive. When you reach the Police Station turn left into Endeavour Bvd and right into Sibley St at the Forte Cafe. Fluid First Aid will be on your right about 30m along Sibley St.
The best way to plan your public transport journey from the TransLink website http://translink.com.au or call 13 12 30.
Venue facilities
The Ko-Work building is a modern facility complete with air-conditioning and padded seating for your comfort. Free tea, coffee and biscuits are available before and during the course.
We break at 11:00am for morning tea/lunch for 30 minutes.
You can take advantage of the fully equipped kitchen including fridge and microwave if you would like to bring your lunch with you.
Local food outlets
If you wish to buy lunch, snacks or a great coffee there are a number of great options just outside the training centre.