3 ways to use a triangular bandage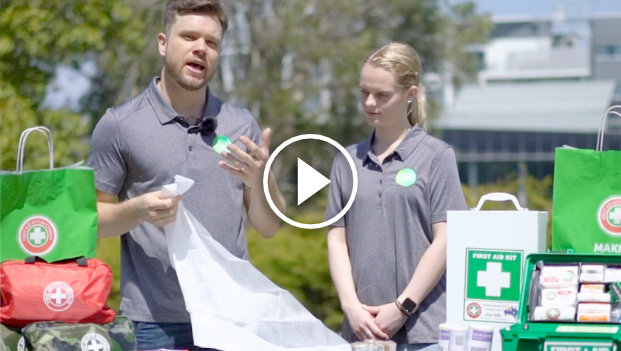 Reading Time:
< 1
minute
[et_pb_section fb_built="1″ _builder_version="3.0.47″][et_pb_row custom_padding="0|0px|37px|0px" _builder_version="3.0.47″ background_size="initial" background_position="top_left" background_repeat="repeat"][et_pb_column type="4_4″ _builder_version="3.0.47″ parallax="off" parallax_method="on"][et_pb_text _builder_version="3.0.106″ text_line_height="2em"]
[activecampaign form=23]
[/et_pb_text][et_pb_text _builder_version="3.0.106″]
3 ways to use a triangular bandage
Today we kick off a new video series we'll continue over the coming months called "How to Use Your First Aid Kit" with a quick handy tip on how to use a triangular bandage.
These are bite-sized videos designed to familiarise you with common items found in first aid kit and how best to use them.
Why?
Well if you are like most people, then you only open up the first aid kit and check the contents when you actually need it – someone is ill or injured, needing prompt and perhaps critical attention, and you're only now finding out what you've got in your kit, let alone how to use it.
If that's you, then you're the reason for this series. (Why not subscribe to get more tips like this monthly?!)
Handy as a scout's scarf, a triangular bandage is a first aider's best friend and can achieve many things from controlling bleeding to immobilising limbs.
In this video we demonstrate our top 3 uses including the "one sling to rule them all"…
Enjoy! (And if you do, sign up below for more great content…)
[/et_pb_text][/et_pb_column][/et_pb_row][/et_pb_section]
Author:Ben
From New York City to Vietnam and back home, Ben has worked as a teacher, first aid instructor, humanitarian volunteer, pastoral worker and singer-songwriter. He loves producing engaging and outside-the-box adult learning content, of which some of his working has been nationally awarded. Ben loves guitars, running and tennis, but his hands-down favourite things are his princess daughters Noa and Minnie, twin sons Jude and Jasper and beautiful wife, Jess.