How to respond to a Diabetic Emergency
July 27, 2020

Posted by:

Julian Miana

Category:

First aid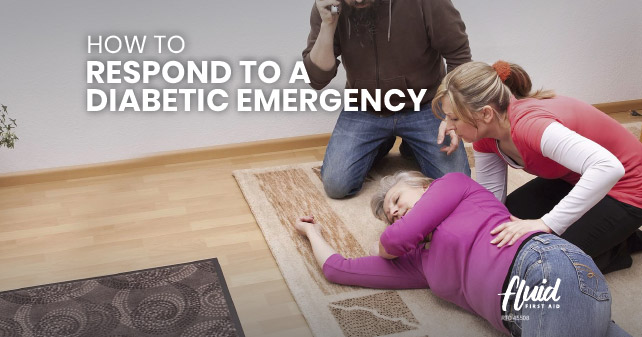 Reading Time:
< 1
minute
In Australia, around 1.7 Million people live with Diabetes and around 280 new cases are diagnosed daily. Diabetes is a major cause of blindness, kidney failure, heart attacks, stroke, and lower limb amputation.
Diabetes is a condition where the pancreas is unable to produce enough insulin to break down sugars for the body to use as energy. Every cell in our bodies needs energy so this is a very important process.
There are two types of diabetes: Type 1, is where the body doesn't produce insulin at all and this person will require injections of insulin several times a day to survive. Type 2, is where the body can't produce enough insulin and this person is usually managed by a change in diet and/or medication. In addition, some women develop gestational diabetes during pregnancy.
For a first aider it makes little difference which type of diabetes the person has as we treat them similarly in an emergency.
First Aid Treatment for a Diabetic Emergency
Signs of a diabetic emergency are sudden. The person may show signs of:
Confusion or irritability

Headache or dizziness

Pale, cool, sweaty skin

Tremor or seizures

Weakness

Hunger or thirst

Double vision

Rapid breathing and pulse

Unresponsiveness
If the person is showing any of these signs, it is important to act quickly.
The First Aid treatment is to give plenty of sugar.
Lollies

Softdrinks

Fruit juice

Chocolate

Glucose gel
When the person recovers, give them a sandwich and some fruit and advise them to see their doctor.
 If the person is not recovering, CALL 000 immediately.
 If they became unresponsive lay them on their side to maintain their airway free.
 If they stop breathing Provide CPR and defibrillation.
For more First Aid Tips, visit us at https://fluidfirstaid.viveo.design/blog/
Book your next First Aid Course with us at: https://fluidfirstaid.viveo.design/courses/
(1) https://www.diabetesaustralia.com.au/diabetes-in-australia