How to create a mentally healthy workplace?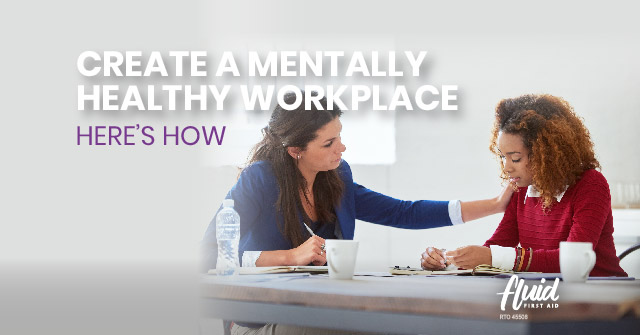 Reading Time:
3
minutes
How to create a mentally healthy workplace?
Mental health problems at work have an impact on people and on their productivity.
Mental ill-health costs Australian workplaces $4.7 billion in absenteeism, $1.6 billion in presenteeism and $146 million in compensation claims per year. [1]
While previously largely ignored, now companies are working towards workplaces where mental health problems are addressed and people learn the skills to support each other.
Thus, a mentally healthy workplace isn't one where mental health "does not exist", but is the result of a series of actions that are taken to ensure people with mental health problem are encourage to seek help earlier.
Like with any other issue that arises in a business, to succeed in managing something, it is necessary to understand the issue, create a realistic plan, ensure adequate resources are allocated, and importantly, review the plan to measure its outcomes. And here is where training in Mental Health First Aid can help.
What is Mental Health First Aid?
Mental Health First Aid (MHFA) is an evidence-based training course which gives your employees the skills and confidence to have supportive conversations with their co-workers and help guide them to professional help if needed.
MHFA is focused on skills-based training; not only awareness raising.
Training your staff and having dedicated employees across the workplace who are Mental Health First Aiders are concrete actions to create a skilled mental health first aid workplace. Moreover, Mental Health First Aid courses had shown to increase knowledge, confidence and helping behaviours, and reduce stigma within an organization.
What are the benefits of Mental Health First Aid in your workplace?
Mentally healthy environments are positive places where everyone feels supported and able to do their best work. A healthy workplace can improve staff morale and engagement, reduce staff turnover and improve interpersonal relationships among employees, resulting in fewer conflicts and complaints. Workers' compensation claims are also halved in organisations that provide support. [2]
MHFA courses improve workplaces by:
Increase knowledge and confidence

Teach helping behaviours

Reduce stigma

Improve Team Communication

Contribute toward a healthier company culture
A recent report Beyond Blue commissioned from PwC found that on average, every dollar spent to promote good mental health in the workplace reaped a return of $2.30. So mentally healthy workplaces make good business sense. [3]
Our Flexible Training Options
At Fluid First Aid we offer flexible workplace training in Mental Health First Aid in the following formats:
Full face to face
Face-to-face 2 day course
The face-to-face 2 day theory and practical course gives you the opportunity to learn in a group setting. You will then practice the newly learned skills and receive trainer feedback before completely assessment tasks.
Assessments scenario based
Final multiple choice online assessment
Blended learning
Online learning and assessment (up to 6-8 hours to complete)
The online video learning component give you the time and space to learn and complete theory assessment at your own pace, when and wherever you want! Actual duration of this component will vary depending on your past experience and knowledge.
You will need access to a computer and the internet to complete this part of your course. If this is difficult for you we can arrange access for you – just give us a call! You must have successfully completed the online assessment prior to attending the practical face to face component of the course. You gain an elearning certificate of successful completion of this online course you than need to arrange the face to face component within 3 months.
Face-to-face practical session (4 hours duration) This face-to-face practical session gives you the opportunity to learn the applied skills, practice them and receive trainer feedback and then complete assessment tasks.
Final multiple choice online assessment
For more information visit us at https://fluidfirstaid.viveo.design/mental-health-first-aid/ to book your Mental Health First Aid Course.
Don't forget to check our blog at https://fluidfirstaid.viveo.design/blog/ for more First Aid Tips.
---
References
Statistic retrieved from Mental Health First Aid Australia. https://mhfa.com.au/workplace

Australian Bureau of Statistics (2008) 2007 National Survey of Mental Health and Wellbeing: Summary of Results (4326.0). Canberra: ABS

Statistic retrieved from beyondblue Booklet – Creating a mentally healthy workplace: A guide for leaders https://www.headsup.org.au/docs/default-source/resources/bl1256-booklet—creating-a-mentally-healthy-workplace.pdf?sfvrsn=4
Statistic retrieved from Mental Health First Aid Australia. https://mhfa.com.au/workplace. PricewaterhouseCoopers Australia, Creating a mentally healthy workplace: Return on investment analysis, 2014. Available from www.headsup.org.au
Author:Heber
Our mission is to innovate , build concepts, products and experiences that exceed the boundaries of design and technology. Our journey is centred around creations that ignite emotions.