First Aid Tips: What to do if Someone Faints
June 18, 2020

Posted by:

Julian Miana

Category:

First aid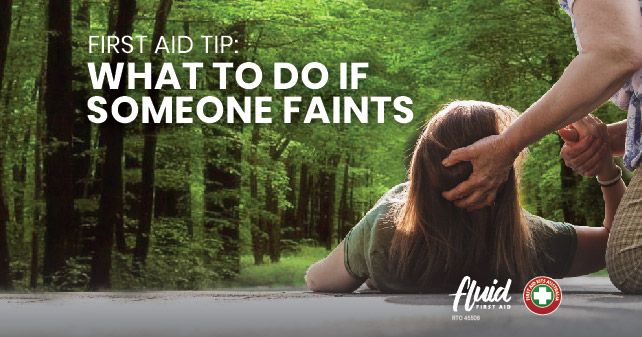 Reading Time:
2
minutes
Fainting is quite common and, if it happens, can be quite alarming to have someone collapse without warning.
Fainting is a sudden loss of consciousness caused by low blood flow to the brain. Things like emotional shock, low blood pressure, exhaustion, overexertion, dehydration, standing immobile in hot conditions, or standing up suddenly could cause someone to faint.
Symptoms can include:
lose consciousness

light-headed, dizziness

cold skin and sweating

slurred speech

feeling sick/nauseous

changes to your vision
It usually happens suddenly and people recover quickly, often within seconds, without lasting effects. It may be a temporary occurrence or the indicator of a larger problem. But if it is recurrent, it is important to see a doctor.
What to do – First Aid for Fainting
If you happen to be present when someone faints, here are the First Aid actions to perform to help
 Follow DRSABCD
Danger, Response, Send For Help, Airways, Breathing, CPR, Defibrillator.
Help the person lie down. A person who has fainted in a chair should be helped to the ground.
Loosen any tight clothing that could be restricting breathing.
If the person is unconscious, roll them on their side. Check they are breathing and that they have a pulse.
Ensure there is plenty of fresh-air – open a window if possible
If possible, elevate the person's feet above the height of their head.
When the person becomes conscious, lie them on their back and raise and support their legs.
Assess the person for any potential injuries if they have fallen.
Call triple zero (000) for an ambulance if the person has not regained consciousness within a few seconds or recovered in a few minutes.
What you shouldn't do
Get the casualty to sit down with their head between their legs
Splash the face with water
It is a myth that these techniques are effective at preventing fainting or helping someone manage faintness.
Preventing Fainting
Some things you can do if you feel faint:
loosen any tight clothing

stay hydrated with plenty of water

control your breathing

stay away from triggers/phobias

stand up slowly from lying or seating
If you want to see more First Aid Tips, be sure to visit us at https://fluidfirstaid.viveo.design/blog/ and don't forget to book your First Aid Course, at https://fluidfirstaid.viveo.design/courses/ so you can be prepared to save someone's life.
Fluid First Aid
RTO 45508