Nathan Training Venue Information
Fluid First Aid offers regular First Aid Courses in the South Side suburb of Nathan which is situated just a short walk from Griffith University Nathan Campus and the QEII Jubilee Hospital. Our Nathan Venue is 15 minutes from the Brisbane CBD and services surrounding suburbs such as Upper Mount Gravatt, Garden City, Macgregor, Coopers Plains, Darra, Acacia Ridge, Mansfield, Carindale and Ipswich and is easily accessed via Public transport.
The Most Effective First Aid Course in Nathan
We see training courses as opportunities to grow and become empowered with knowledge, and we have built our company on this foundation. We aim to make first aid training fun and accessible for everyone and provide nationally recognised first aid courses in Nathan.
Although many people will have learned some first aid through their education, it is important to refresh this as an adult. Knowledge of first aid procedures and the correct methods of administering first aid assistance are vital for you as an individual, as well as for your community. First Aid can be applied anywhere, in some circumstances, it may be the difference between life and death until further help arrives.
For all Australian businesses, provision of trained first aiders as well as first aid equipment and facilities are a legal requirement. The First Aid Code of Practice states, there should be one first aider for every 50 workers in a low-risk environment, such as an office, and one first aider for every 25 workers in a high-risk environment, such as a construction site.
Whether the workplace is high or low risk, we believe it shares two traits: valuable employees who may suffer from illness or injury, and the need to protect them with suitable first aid procedures.
Why choose Fluid First Aid?
Upon completing our training course, you can expect to know how to respond to and provide care for a range of injuries and illnesses including:
CPR and defibrillation for patients of all ages
Breathing emergencies including Asthma, severe allergic reactions, and choking
Cuts and bleeding injuries
Fractures, sprains, and strains
Burns
Heart attacks, Strokes, and Diabetes
Seizures (including Epilepsy)
Hypo and Hyperthermia
Bites and stings
Legal issues
Infection control and reporting
Courses at this location:
(select course for more info)
281 Kessels Rd,
Nathan QLD 4111
Getting to your course
The Nathan Venue is conveniently located on Kessels Road 13.5km, just off the M3 and the M7. If travelling Southbound from the Brisbane CBD travel along the M3 taking exit 11 towards Klumpp Rd/Mains Rd Metroad 2 continue along Mains Road using right 2 lanes to merge onto Metroad 2, follow along until you see Robertson Gardens on the left hand side, turn left into the venue. If travelling eastbound from Ipswich travel along the Warrego Hwy M2 and M7 to Granard Rd in Rocklea. Take Granard Rd exit from M7 continue on and use the left lane to take slip road to the Beaudesert/City. Use the right lane to keep right at the fork and follow signs for Upper Mt Gravatt. Sharp right onto Metroad 2. Follow along until you see Robertson Gardens on the left hand side, turn left into the venue.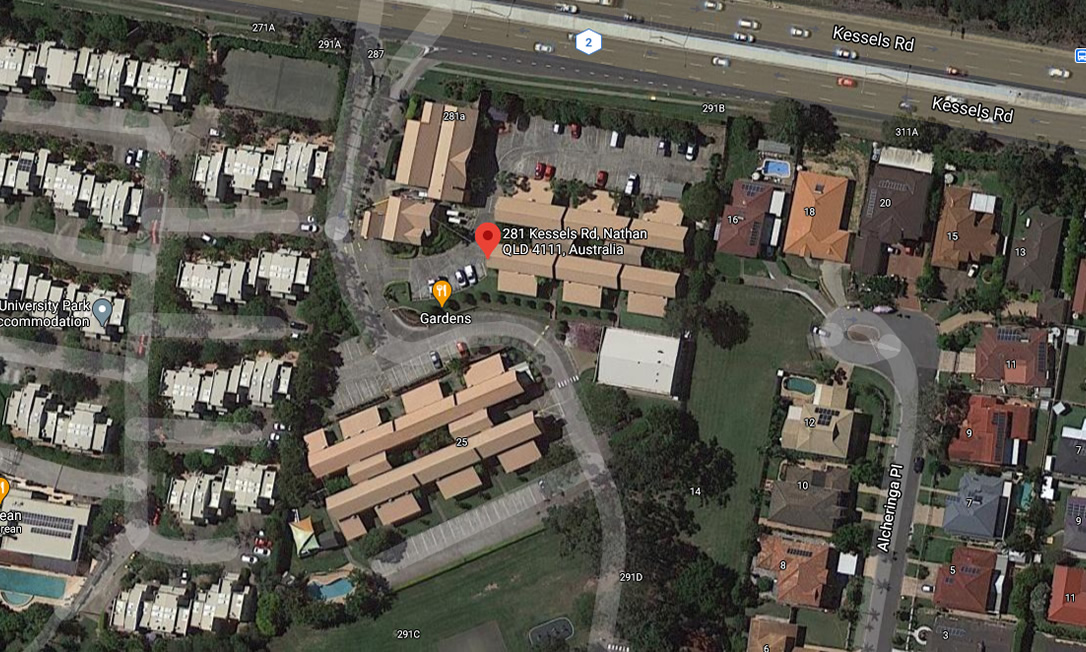 Parking
On – Site Parking is available.
Public Transport
The Nathan training centre is accessible via public transport with the Beenleigh train-line close by the venue is within walking distance from either Banoon Station or Coopers Plains Station. The Nathan training centre is also easily accessible via Bus services running from Gardens City, Brisbane CBD, and surrounding suburbs.
Venue facilities
The venue has a lunch pack available for purchase for an additional cost, please see the staff at Reception upon arrival.